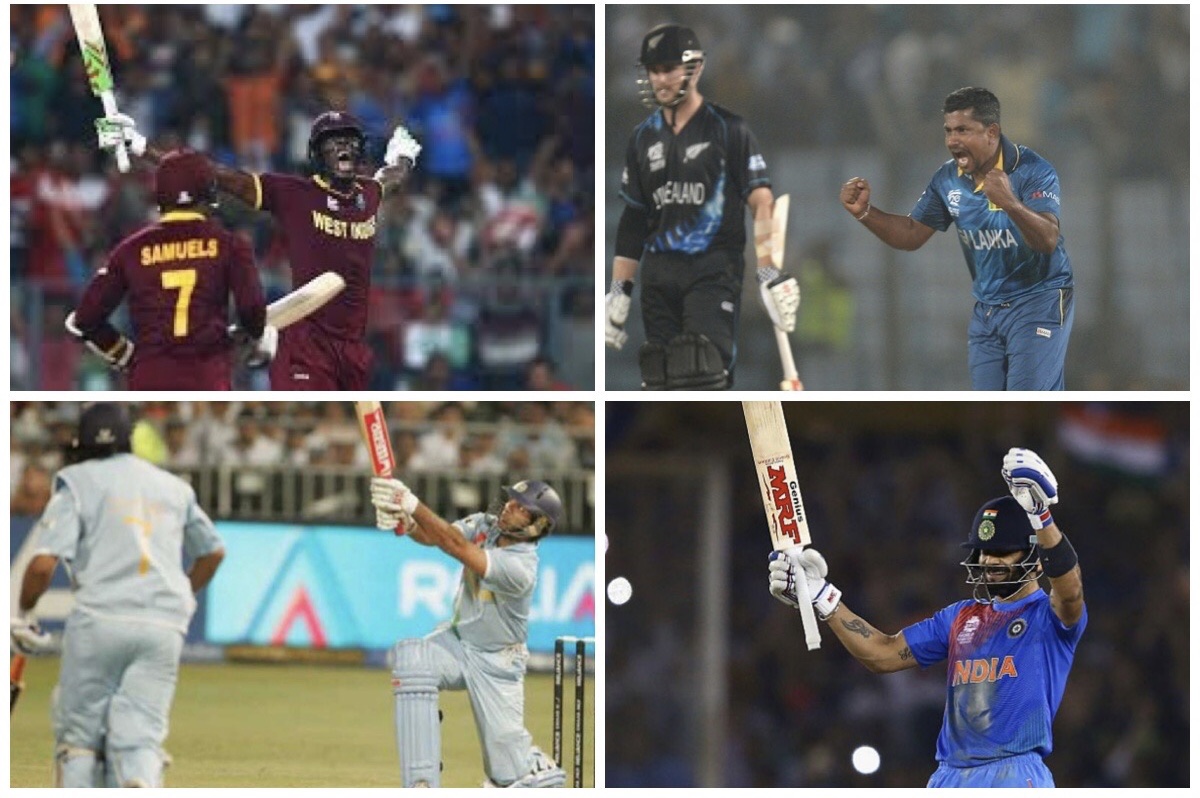 ICC's online poling to determine the Greatest moment in the T20 World Cup history have entered the semi-finals stage. 4 Greatest moments are about to go head to head to crown the greatest moment in ICC Men's T20 World Cup history. Sri Lanka legendary spinner Rangana Heraths's  5/3 against New Zealand is among the top four moments.
There were countless iconic moments from the six Men's T20 World Cups so far but with online poling ICC narrowed it down to a final four.
Vote for Herath in the semi final match up
Top 4 Greatest Moments
1. Carlos Brathwaite's 'Remember the name' moment 2016 
On 3 April 2016, Carlos Brathwaite etched his name into West Indies and T20 World Cup history forever. A relative newcomer to international cricket playing just his eighth T20I, Brathwaite was the man charged with facing Ben Stokes in the last over of an epic final between England and the West Indies. Having only batted three times in a T20I before with a top score of 13, Brathwaite needed 19 runs to take West Indies home. He could have attempted to find a single to put the in-form Marlon Samuels on strike. Instead, he hit Stokes for four consecutive sixes, spurring those eternal words from Ian Bishop – 'Carlos Brathwaite, remember the name.'
2. Herath defends 119 with 5/3 (2014)
Sri Lanka had to overcome New Zealand to cement their qualification for the semi-finals in 2014. Rangana Herath rescued them after their chances to win had become negligible. A hapless effort from the bat could only give the bowlers 119 to defend. Herath's immaculate performance in the match was kicked off by the run-out of Martin Guptill. In his first over, he bowled five consecutive dot balls that added the pressure on Brendon McCullum, who then stepped down the track to break the shackles. But Herath's flighted delivery spinning away from him outdid McCullum with Kumar Sangakkara completing the stumping. Herath followed this with another maiden over while removing Ross Taylor and Jimmy Neesham for ducks in consecutive deliveries. Luke Ronchi and Trent Boult became the final victims of Herath's torment that bundled New Zealand for 60 runs – their lowest T20I total.
It was a masterclass in executing a chase from Virat Kohli. India needed 161 against Australia in the 2016 T20 World Cup group encounter. The hosts lost their openers, but Virat Kohli got off to a flier with a flick of the wrist. With style and grace, Kohli calculated the chase to perfection. In the 19th over, Kohli blazed four boundaries off Nathan Coulter-Nile's bowling to seal India's spot in the semi-finals. Kohli's expressive celebration was telling of what the feat meant to him.