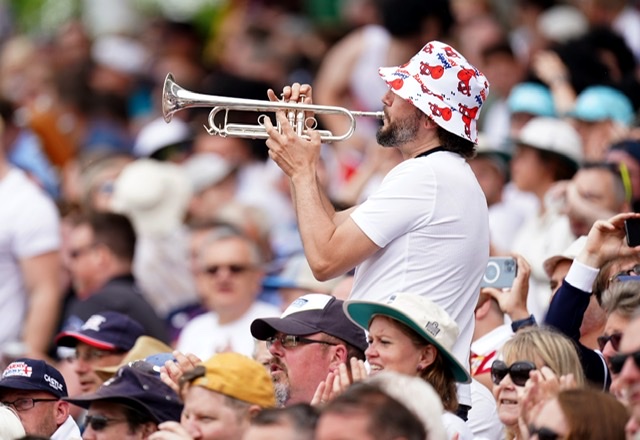 More than 17,000 cricket fans flocked at Edgbaston cricket ground in Birmingham yesterday to watch the 2nd Test between hosts England and New Zealand.
As part of the UK Government's 'pilot scheme' for large-scale events, 17,000 fans – 70% of the ground's capacity will be allowed in every day. This will make it the best-attended cricket match in the UK since the 2019 Ashes series.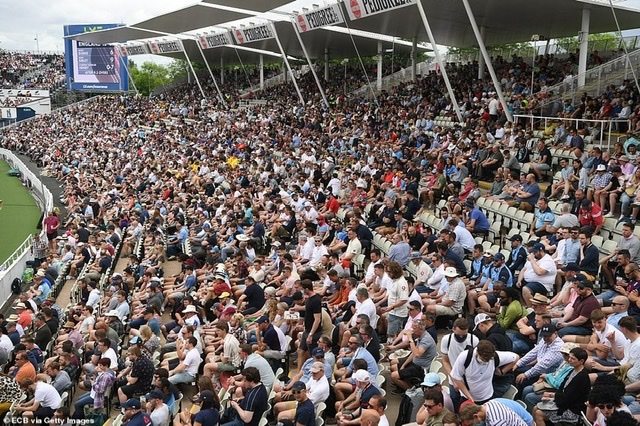 There is no social distancing at Edgbaston, but the event organizers are using a range of measures to minimize the risk of transmission of the Coronavirus.
Fans need to submit a negative 'lateral flow test' ahead of the match. These test are less accurate but less expensive than PCR tests.
Joining a 'human snake' on a 20-minute walk to the stadium from town. This is to avoid public transport.
Using post code analysis of spectators' home addresses to lay on extra buses on busy routes to avoid overcrowding.
Providing additional car parking spaces since most fans may not want to use public transport.
Wearing face masks when walking around. Providing more than 300 hand sanitizing stations.
Using the 'Edgbaston app' for ticket sales as well as ordering food and drink inside the ground.
Using the app to identify routes around the ground that are not congested and check if toilet queues are short.
Fans will also have to do a home PCR test – provided free of charge – after the match.
Authorities hopes if this pilot is a success, the methodology set up for this Test match will set a template for how other big sporting events in the UK can operate with full crowds in the coming months.
Fair to say, Edgbaston crowd are enjoying a return to the stands ! 👇🏽
Longest beer snake ever? 🍺

Fair to say the Edgbaston crowd are enjoying their return to Test cricket 👏

📺 Watch #ENGvNZL on Sky Sports Cricket nowpic.twitter.com/1NH2CTjoud

— Sky Sports (@SkySports) June 10, 2021