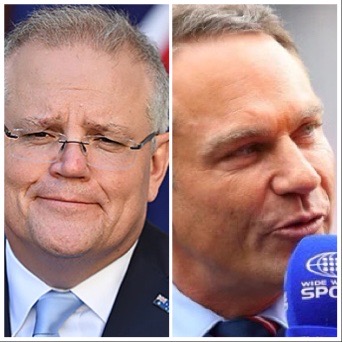 Former Australian cricketer and popular commentator Michael Slater has slammed Australian Prime Minister Scott Morrison in an angry tweet, criticizing government's decision to ban all flights from India.
If our Government cared for the safety of Aussies they would allow us to get home. It's a disgrace!! Blood on your hands PM. How dare you treat us like this. How about you sort out quarantine system. I had government permission to work on the IPL but I now have government neglect

— Michael Slater (@mj_slats) May 3, 2021
Last week, the Australian government had suspended all flights from India and the use of connecting flights, until at least the 15th of May. The decision is due to the increase of Covid-19 cases in hotel quarantine that are originating from India.
The government tightened restrictions to the extent that it is now a criminal offence for anyone – including Australian citizens – to arrive from India within this period.
There are close to 40 Australians in the IPL bubble comprising players, coaching staff and commentators.
They are expected to depart to the Maldives, looking at a way to remedy a dilemma created by the postponement of the 2021 IPL and the current closure of the Australian border to citizens currently in India.